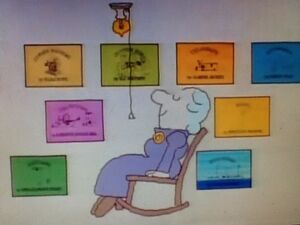 Mother Necessity is a song from America Rock!. It is a song about the great inventors and their inventions.
America Rock
Edit
This song teaches about the great American inventions, all depicted as being created as a result of a need for the inventors' mothers.
An error is the part where Guglielmo Marconi invented the radio. Marconi wasn't American, but Italian.
Schoolhouse Rock: Math Rock (constellation cameo appearance)
Edit
Mother Necessity appears as a constellation cameo appearance.