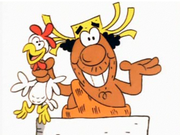 This For That
is a song in
Schoolhouse Rock!
, which can be seen in Money Rock. The song teaches us about bartering and the history of currency. The chicken in this episode has white feathers!
Characters present Barter"]
Money Rock
Edit
This song teaches about the history of barter and trading as well as the evolution of the money supply throughout history.
When we lived in caves

There were no shopping malls


And people's manners were Neanderthal


No bodegas, no delis, no corner stores


Shopping trips turned into tugs of war


When not having pull got this man mangled


He thought he'd try an easier angle




I'll give you this for that That for this We'll make a trade called "barter" I'll give you this for that That for this We'll have it made with barter
Now, barter worked well At least in theory But a wallet full of yaks Could make you weary Making change for a cow Wasn't easy to master Unless you were ready For an "udder" disaster Shiny shells were far more portable Why not use them for what's affordable?
I'll give you this for that That for this With shiny shells, why barter? I'll give you this for that That for this Shelling out shells is smarter
For farmers in ancient Mesopotamia The barley they grew was the money mania When hauling big sacks put their backs in traction They invented coins to lighten transactions Now, when a man had a debt to settle He'd dig out some coins made of precious metal
I'll give you this for that That for this Silver or gold or copper I'll give you this for that That for this With coins you're a smarter shopper
Then China made money even more desirous Printing it on paper made of crushed papyrus Take one from Column A and one from Column B The Chinese paid their checks in paper currency When Columbus set out on that famous charter He had no paper money, so he had to barter He took along some beads for currency So barter played a part in our discovery Balboa and Pisarro and Sebastian Cabot Even Coronado had the trading habit
I'll give you this for that That for this They loaded up with gold, then parted I'll give you this for that That for this And soon the whole world was charted
Today we use cash and spend with ardor But that doesn't mean we don't still barter When a football team needs a pulling guard Or a kid like you is into trading cards
Take this for that That for this Bills and coins are smarter But when you pay for that Remember this It all started out with barter